SERVICES AT BELMAR DENTISTRY
Read more about what we provide at our practice
We offer a range of dental services, including general, restorative, and preventative dentistry, oral surgery, and emergency dentistry.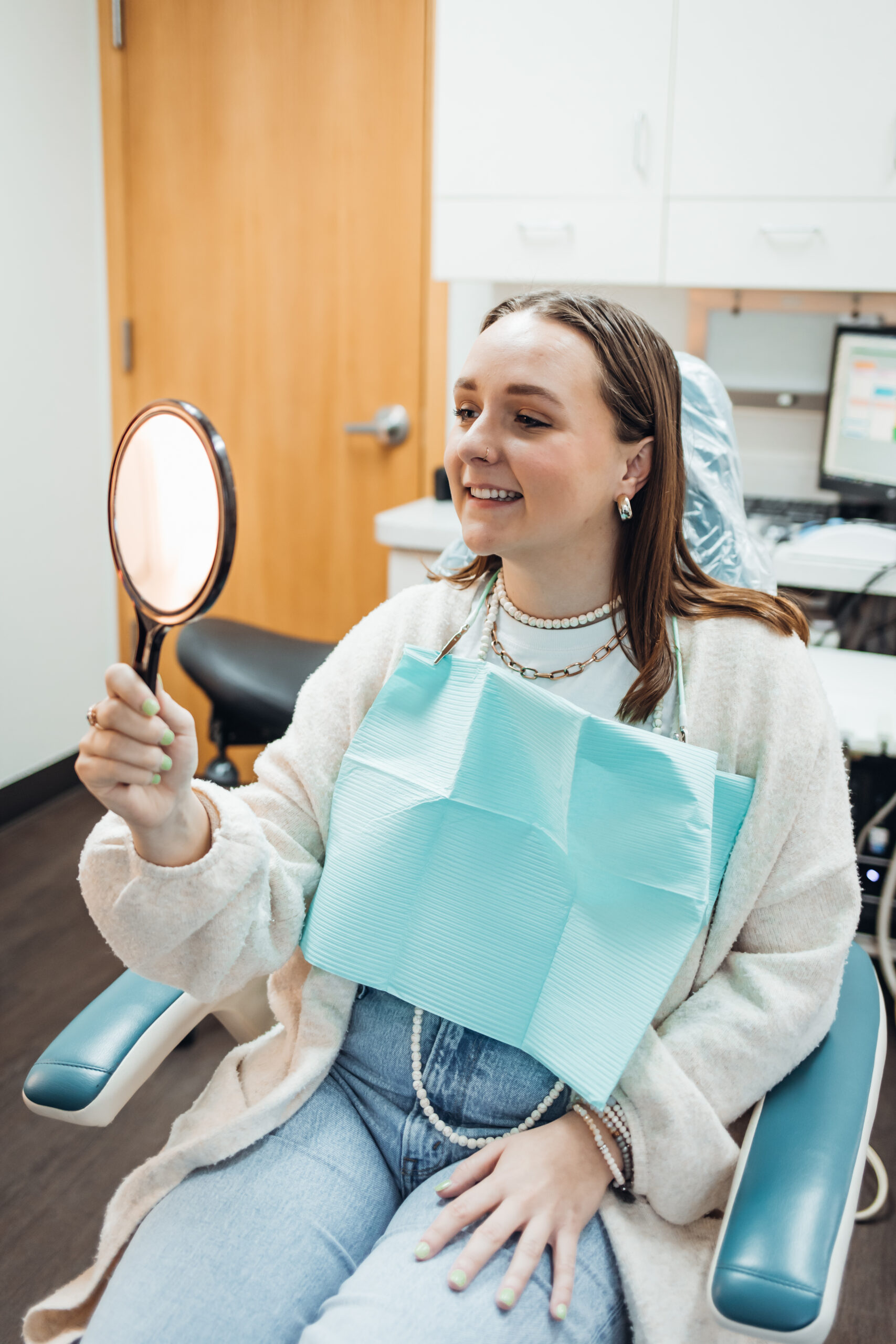 Helping our patients maintain a healthy mouth and smile is our passion at Belmar Dentistry. We prefer to provide more minor, preventive care than to see patients suffer with more intensive treatments from a problem that was not managed in time. We want to ensure that your oral health is in its optimal state and positively contributing to the health of your entire body. The best way to do that is through preventative cleanings and exams.
Receiving a regular checkup and cleaning gives a preventive approach to dental care. These general dentistry treatments help prevent problems with your teeth, gums and jaw bones, or they catch and manage problems before they worsen and potentially require more invasive treatments. During your visit, our team will take recommended x-rays and measurements of your gums to evaluate the current standing of your dental health and make recommendations for what is needed to keep your oral hygiene in its best state.
Fluoride helps to prevent tooth decay by strengthening the outer surfaces of the teeth. We offer our patients multiple options for fluoride treatments. Fluoride varnish can be applied directly to the teeth at your visit. We also offer prescription high fluoride toothpastes for our patients to use at home.
Your dental team will provide you with personalized tips and tricks on how best to manage your oral hygiene.
Night guards and sports guards
Night guards are oral appliances that can be helpful to protect the teeth in patients that grind or clench at night. Sports guards are designed to protect the teeth from damage during high impact sports.
GENERAL + RESTORATIVE DENTISTRY
Composite fillings act as a dentistry solution for problems such as tooth decay or cracks. A composite filling is a tooth-colored plastic and glass mixture used to restore teeth. This procedure is also utilized for cosmetic improvements of the smile by fixing any discoloration or reshaping any disfigured teeth.
Dental crowns are used to restore teeth that have more extensive decay, fillings or cracks. Crowns are fabricated in a dental lab and customized to fit your specific tooth shape and color. They are then permanently cemented in your mouth.
When multiple or all teeth are missing, dentures and partial dentures are an option that can be considered for replacing the teeth. Dentures are removable appliances that are customized to the patient. They restore your ability to chew and create an aesthetic smile. There are many types of dentures, and some can be held in by implants for more retention. During your exam, your dentist will discuss if and what type of denture may be the best option for you.
When a tooth is missing, it can greatly affect your ability to chew and also impact your smile. Dental bridges are one of many options for replacing missing teeth aimed at improving the appearance and function of your mouth. During your exam, we will discuss whether or not dental bridges are right for you.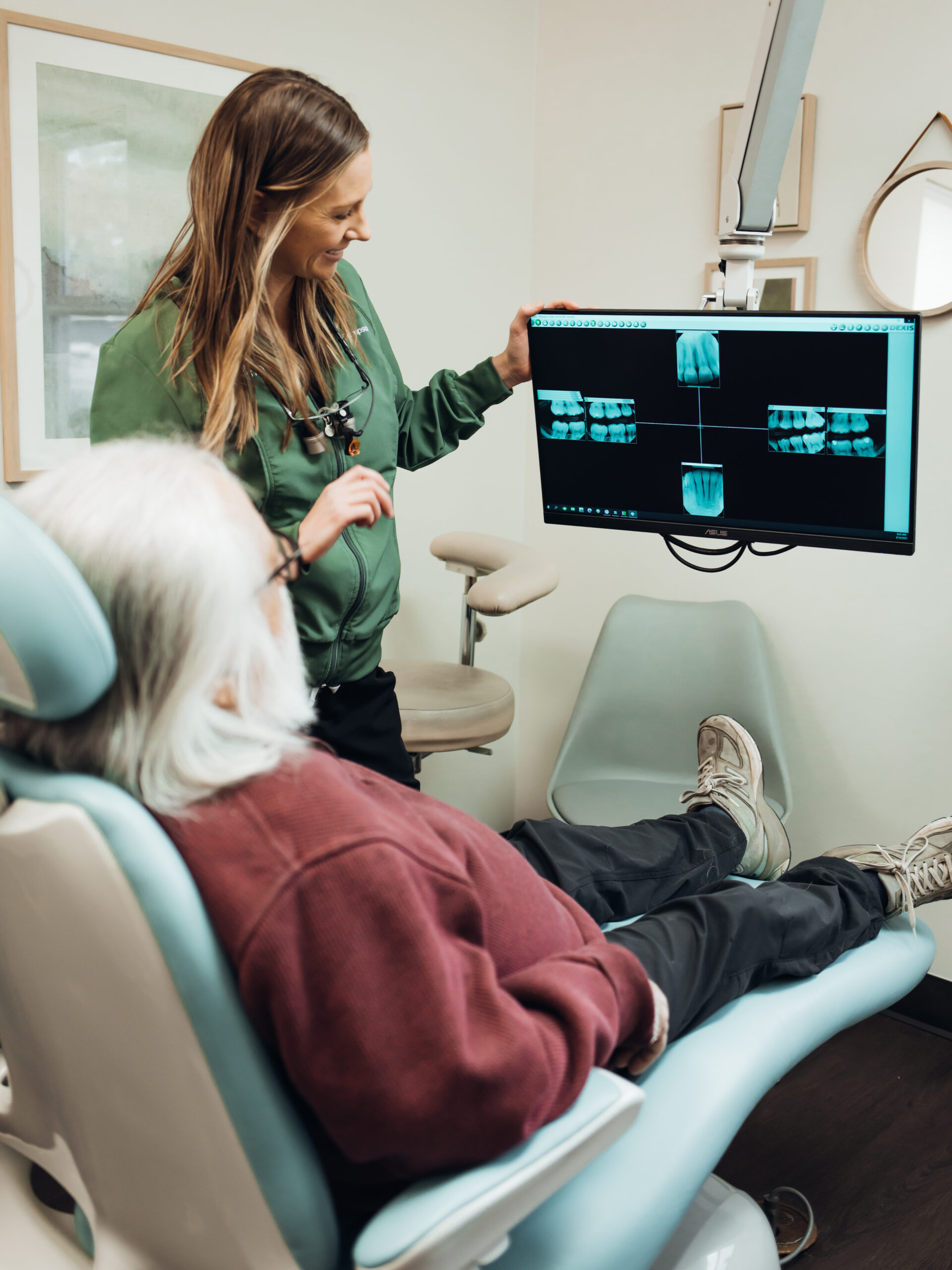 In office and at home whitening
Certain foods and beverages, such as wine and coffee, stain the teeth and contribute to discoloration over time. Whitening of the teeth involves safely placing a dental bleaching agent to the surface of the tooth to allow it to remove the stain. We offer our patients options for what better suits them- bleaching in the office, or at home on their own time.
Veneers
Veneers are a conservative option for improving the appearance of teeth. Veneers are customized, thin porcelain coverings that bond to the front of the tooth to improve the color, shape and appearance of the teeth.


Deep Cleanings/Scaling and Root Planing
For patients that have hardened plaque and a loss of bone and the supporting tissues surrounding the teeth, Scaling and Root Planing may be indicated for you.  The goal in these treatments is to remove the bacteria and debris below the gums to allow for a healthier periodontal condition.
Nitrous oxide, medications for anxiety, general sedation
We know dental procedures can cause anxiety for some of our patients. For that reason, our doctors will work with you to find the best option for managing your dental anxiety. We offer a range of options to help manage anxiety during dental procedures including inhalation of Nitrous Oxide (laughing gas), prescribing of anti-anxiety medications, and use of general sedation provided by a third party.
Clean Aligner Orthodontics
Often, patients have concerns about small areas of crowding or spacing in their mouths.
While clear aligner orthodontics are not a substitute for traditional braces, they can be very useful in correcting mild cases of crowding or spacing between teeth. They work by using a series of clear aligners to move the teeth into the desired location. Dr. Thompson can help you to determine if you might be a good candidate for clear aligner orthodontics.
Tooth extraction, wisdom tooth removal
An extraction is performed to remove a tooth, whether because of disease, crowding, or damage. When extractions are required, the area around the tooth will be numbed and your dentist will remove the tooth. If you still have your wisdom teeth, your dentist will help you to determine if keeping or extracting your wisdom teeth is the best option for you. We offer removal of wisdom teeth and patients can choose to be sedated for this procedure if they prefer.
Whenever a tooth is extracted as the bone remodels, it will have a tendency to result in some loss of bone. If we plan to replace a missing tooth with an implant, it is usually recommended to graft the site of the missing tooth at extraction with bone. This will prevent extensive bone loss and will aid in the placement of the implant when the time comes.
When you have missing teeth, an alternative solution to dentures or bridges is dental implants. Implants can be used to replace single missing teeth or multiple missing teeth. Implants are titanium screws that integrate into the bone and restore the function and appearance of teeth. Dentures can also hook on to implants for more retention.
We understand that sometimes dental emergencies happen in the evenings or over the weekend. While we always prefer to treat patients during the week when our whole team is present, our doctors can be reached after hours to determine if your situation needs immediate attention or can be managed until our next business day.
learn about Our Dental Savings Plan
We offer an individual and family savings program so you can plan ahead for dental needs and receive discounts for things like fillings, deep cleanings and oral surgeries.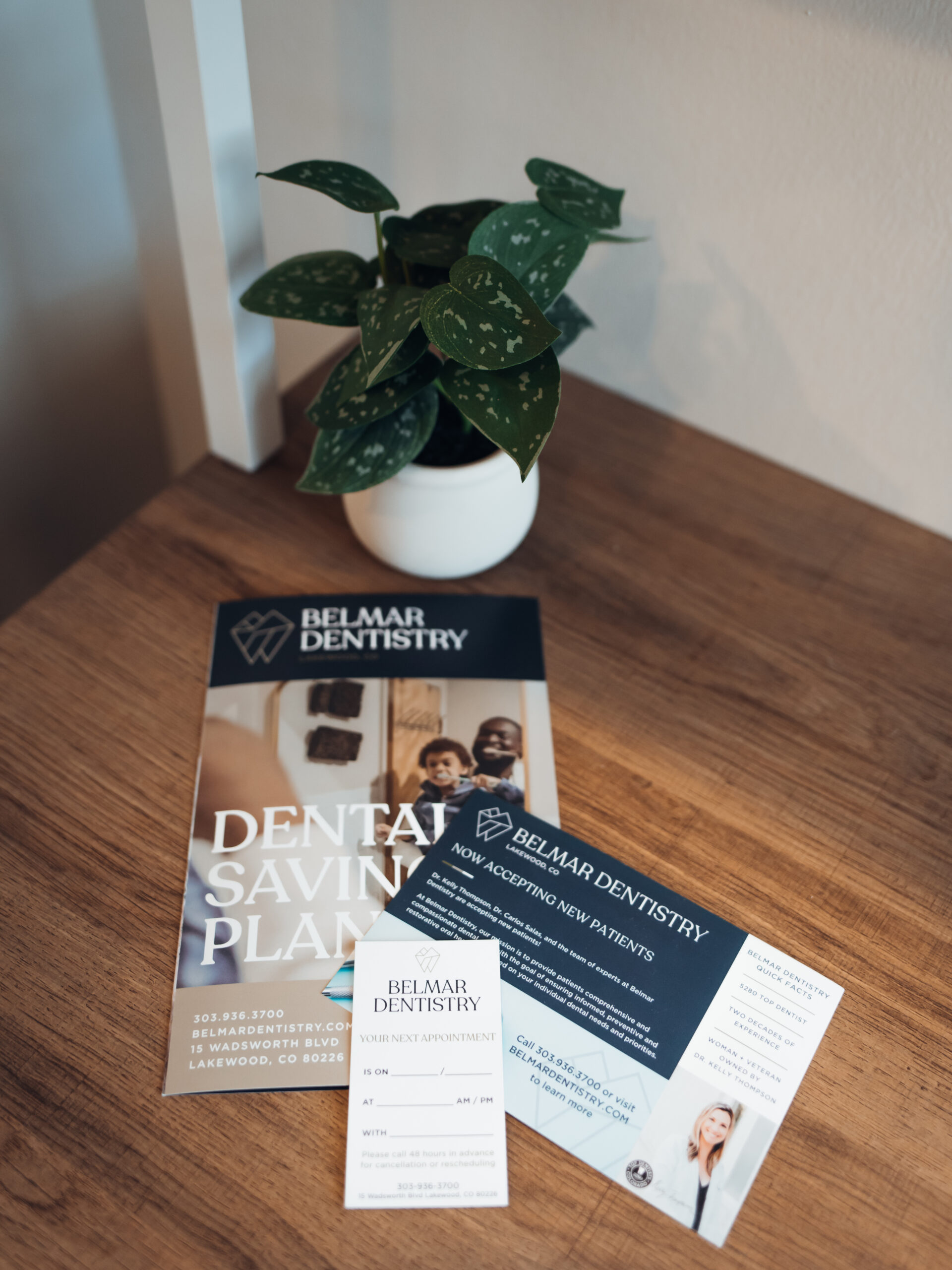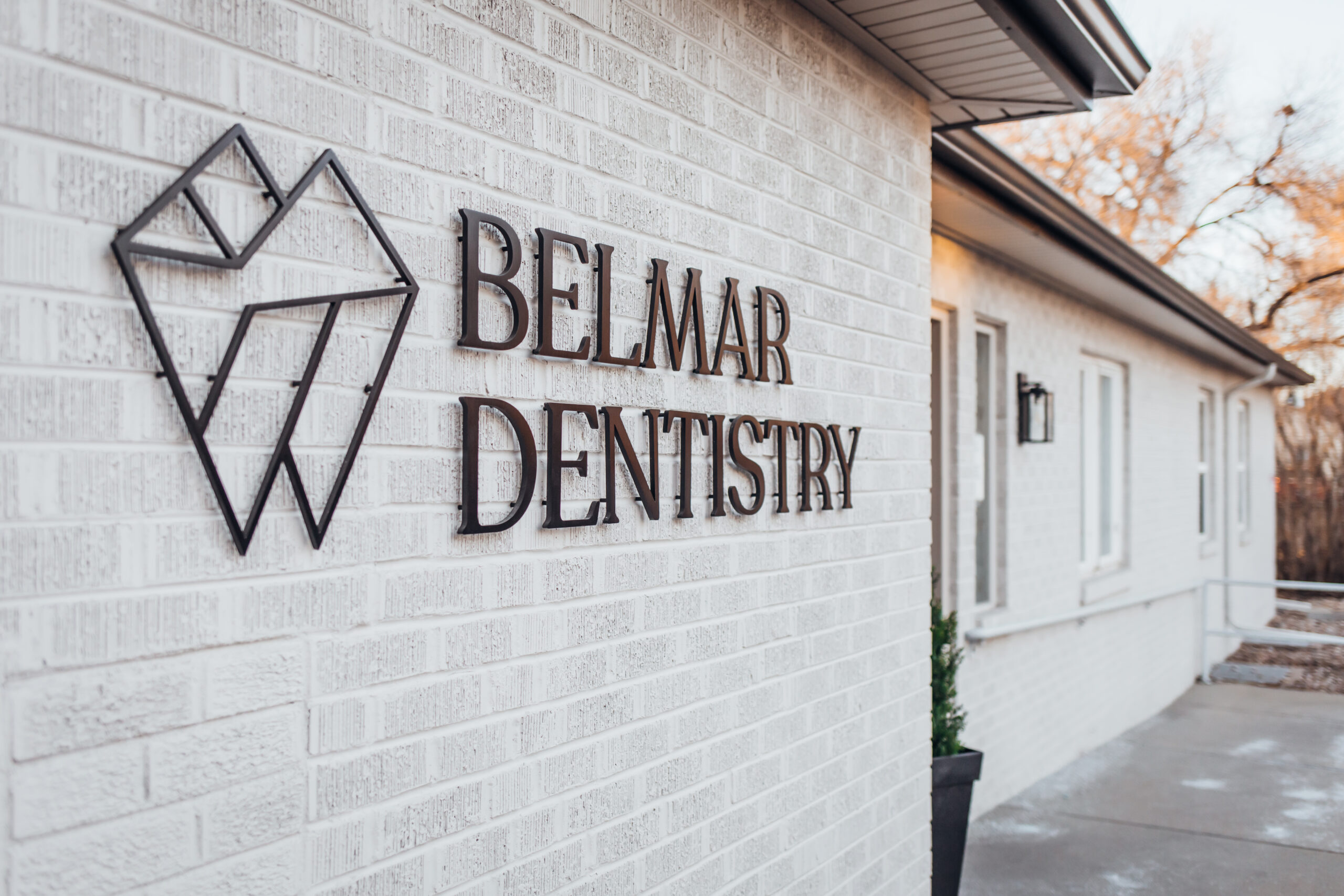 Our staff is passionate about giving back to the community that we serve.
Our give-back traditions include food and toy drives, free dental care days and support for local events.
Do you have a question about our services or office? Send us a message, and a member of our team will be with you shortly.
Click here if you would like to request an appointment, or click here for more ways to connect.